HARTFORD  – The ACLU of Connecticut joined Governor Dannel Malloy and other dignitaries at Faith Congregational Church on August 2 for the ceremonial signing of nine justice reform bills, including four supported by the ACLU-CT. These ACLU-CT-supported bills included:
Bail Reform: Governor's HB 7044, An Act Concerning Pretrial Justice Reform
Fair Chance Licensure: HB 5764, An Act Concerning the Licensing of Barbers and Hairdressers
Civil Asset Forfeiture Reform: HB 7146, An Act Requiring A Criminal Conviction For Certain Offenses Before Assets Seized In A Lawful Arrest Or Lawful Search May Be Forfeited In a Civil Proceeding
Solitary Confinement Reform: HB 7302 (PA 17-239), An Act Concerning Isolated Confinement And Correctional Staff Training And Wellness
David McGuire, executive director of the ACLU of Connecticut, spoke at the event. The following are his remarks, as prepared for delivery:
"Mass incarceration, and the government abuse that causes it, has been a blight upon this country and our state. Over-incarceration has particularly harmed communities of color, and it has failed to live up to our Constitution's promise of equal treatment under the law.
Connecticut has led the nation in striving to create a more constitutional and fair criminal justice system, and these reforms are working. With today's new laws to reform bail, solitary confinement, civil asset forfeiture, and licensure for barbers and hairdressers, Connecticut has moved closer toward justice, equality, and a second chance society.
While we pause to celebrate these new steps toward a 21st century justice system, our work is not finished. The ACLU of Connecticut will continue to fight for an end to mass incarceration, the elimination of racial disparities in our justice system, the humane treatment of all prisoners, and the creation of a justice system that lives up to the promises of our Constitution."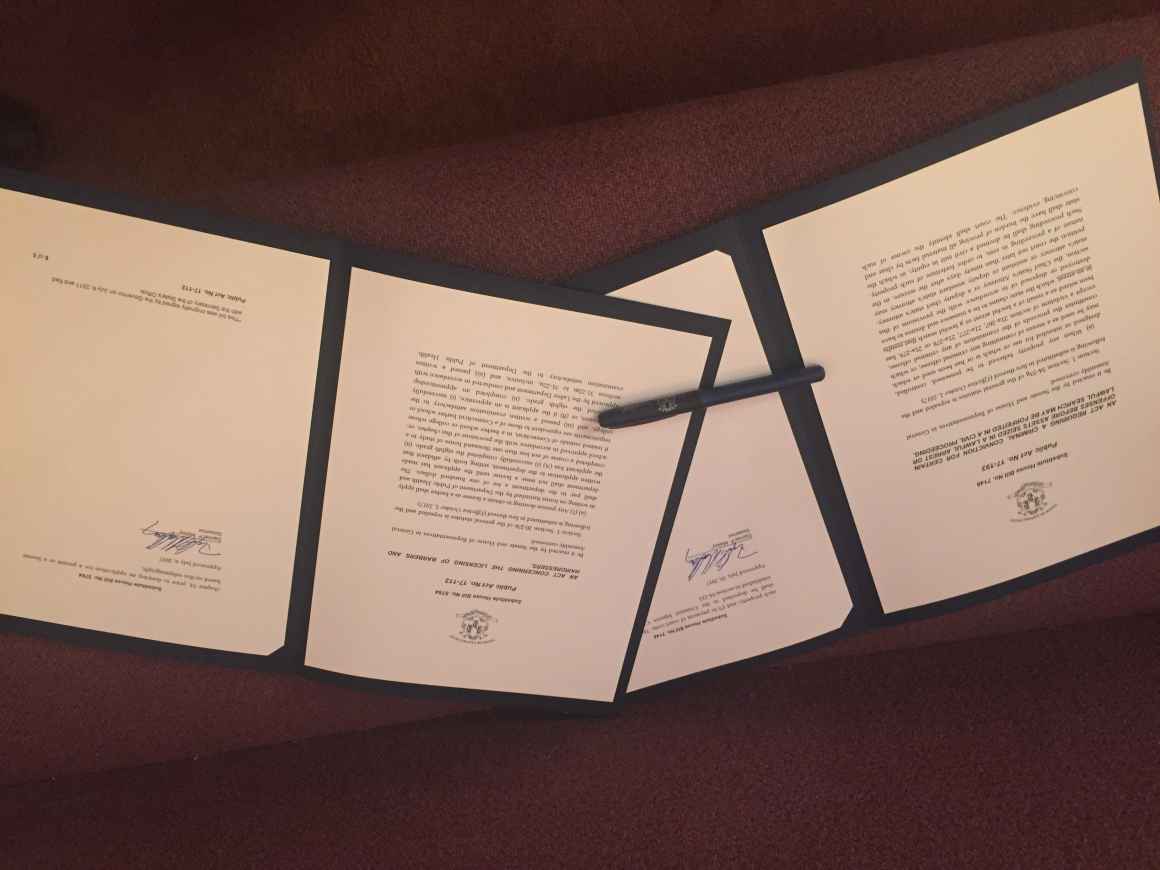 For more information about Governor's HB 7044, An Act Concerning Pretrial Justice Reform: http://www.acluct.org/updates/aclu-of-connecticut-applauds-passage-of-bail-reform-legislation
For more information about HB 5764, An Act Concerning the Licensing of Barbers and Hairdressers [this link will take you away from the ACLU of Connecticut's website]: https://www.cga.ct.gov/2017/PHdata/Tmy/2017HB-05764-R000222-McGuire,%20David%20,%20Executive%20Director%20-American%20Civil%20Liberties%20Union%20of%20Connecticut%20-TMY.PDF
For more information about HB 7146, An Act Requiring A Criminal Conviction For Certain Offenses Before Assets Seized In A Lawful Arrest Or Lawful Search May Be Forfeited In a Civil Proceeding: http://www.acluct.org/updates/civil-asset-forfeiture-reform-passes-connecticut-legislature
For more information about HB 7302 (PA 17-239), An Act Concerning Isolated Confinement And Correctional Staff Training And Wellness: http://www.acluct.org/updates/aclu-of-connecticut-commends-passage-of-solitary-confinement-reform-legislation