As a woman working in law enforcement, I've become accustomed to being in the minority — it's something women know when choosing a career in policing. But after six years on the job, what I didn't anticipate was the discrimination I would face for being pregnant. 
I joined the police department in my hometown of Cromwell, Connecticut, four years ago. I'll never forget the pride I felt when my mother pinned my badge on me at my swearing in ceremony while my family looked on.
I've worked hard to serve the community where I grew up. During the academic year, I serve as a school resource officer in two public schools, and in the summers I return to regular patrol duty. I'm proud of the relationships I've built with school administrators, teachers, and students so that they see me as a trusted colleague and friend — not just "the police."
Late last year, my husband and I were ecstatic when we learned that we were expecting our first child. Our excitement, however, soon turned to anger and frustration because of how I was treated by my department and the Town of Cromwell.
In March, when I shared my news with my chief, I hoped that I would be able to keep working at the station. There is so much administrative work that comes with policing, such as interviewing witnesses, writing reports, and issuing permits.
But the town manager refused to even discuss temporarily assigning me to non-patrol work. Instead, I was told to go home on unpaid leave and not return until after I gave birth. I left that meeting stunned. Being pregnant did not mean I was incapable of working, or that I was sick or injured. That's why federal and state law prohibits employers from penalizing pregnant women. 
I haven't worked since March and haven't had any income since early July, when I exhausted all of my accrued paid sick, vacation, and personal time – time I had been saving to use after my baby was born, while I recovered from childbirth and bonded with my child.  Instead, financial worries will force me back to work as soon as I'm medically cleared. My husband is a combat-wounded veteran and fulltime student; I am the only source of income for our family right now.  It isn't right that my male colleagues can start their families without worrying about being pushed out of work or losing their paychecks. And my fellow officers who are hurt on the job are paid their full salaries while they're unable to work. I feel I am being treated unfairly because, as a woman, starting a family has physical consequences for me.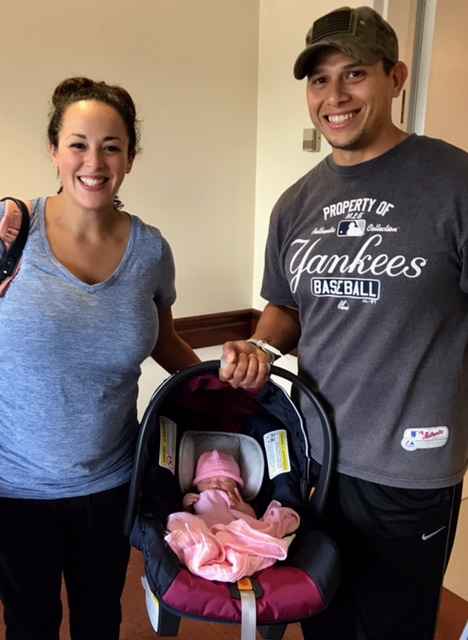 The thought of returning to work after months of not being paid, and without any leave time left, makes me worried and anxious during what should be the happiest time of my life. What will I do if my newborn child is ill and I am unable to take a few hours off of work to be with her?
I filed a complaint of discrimination on Monday with the Equal Employment Opportunity Commission and the Connecticut Commission on Human Rights and Opportunities — not out of anger or revenge, but rather to educate my community about how I and other women in law enforcement are being treated. I don't want another woman on the Cromwell police force, or any other police force, to have to experience what I've gone through.
My town broke the law, and its policy needs to change so that pregnancy doesn't cost officers their paychecks. We must be afforded the same opportunities as male officers, and female officers who don't have kids.
My husband and I welcomed our healthy baby girl Sofia into the world on August 21. I hope that she will be proud of me for taking a stand. 
This story also appeared on the national ACLU's blog.