This year began as one of the deadliest for killings by police in Connecticut in recent history, with five people dying at the hands of police in our state in the first six months of 2020 alone. And then our state, like every other across the country, became part of this summer's uprising for Black lives.
Led largely by Black youth, thousands of people protested in towns across Connecticut this summer to call for an end to police violence and racism in policing and for a beginning of a world that values Black lives. The demands from Black and Latinx organizers in Bridgeport, Hartford, New Haven, Waterbury, and from other towns across the state made clear that people want an end to policing as we know it, not one or two small things, and that core to those demands was an expectation for budgets that prioritize community needs, not policing.
At the same time, the ACLU of Connecticut released "Bargained Away: How Local and State Governments in Connecticut Have Bargained Away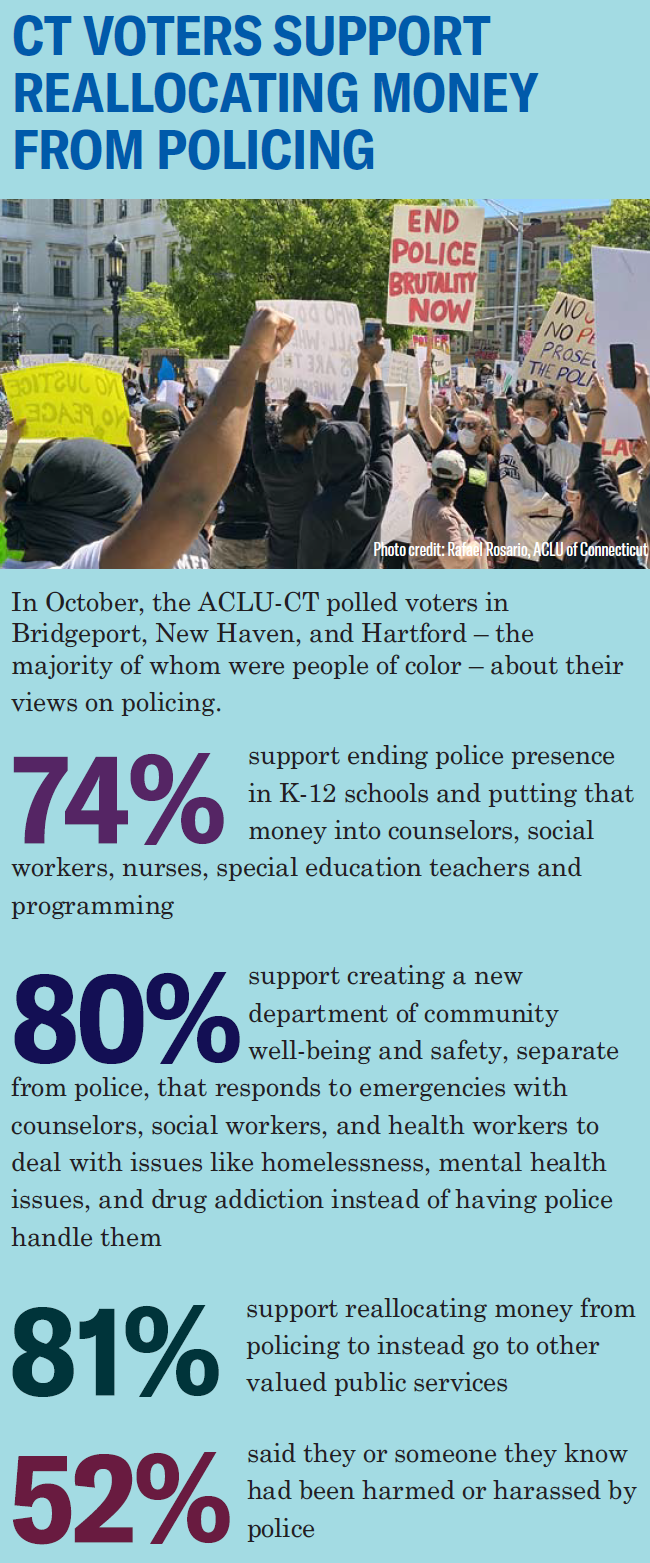 Police Accountability," a report focused on how pieces of municipal and state police contracts shield police employees from meaningful discipline when they harm people, lock towns into guaranteed year-over-year investments in policing, prevent transparency and accountability for police overall, and at times conflict with state laws. The report also recommended actions for municipal and state policymakers, including for the state legislature to end a state police contract provision that conflicted with freedom of information laws.
As the legislature came in for a special short summer session in July, the message from people across our state was clear: enough was enough. Faced with disinformation and thinly veiled aggression spread by police unions, the ACLU of Connecticut and advocates together pushed the legislature to take action for meaningful police accountability. More than 1,200 ACLU of Connecticut supporters emailed their legislators to tell them to act.
As a result of this advocacy and a courageous effort from the legislature's Black and Puerto Rican caucus, the legislature passed a first step bill that includes: 1) ending stop-and frisk, the unconstitutional practice that feeds on and perpetuates systemic racism in policing; 2) ensuring police union contracts can no longer supersede open records laws, 3) expanding and centralizing statewide collection of police use of force information; 4) creating an office of Inspector General to investigate and prosecute police who harm and kill Connecticut residents; and 5) requiring police officers to report excessive use of force used by a fellow officer.
Ending police violence will not be solved by any one law, but the law passed by the legislature this year is a first step. As the law faces misinformation, lawsuits, and political attacks from police unions in coordination with the legislature's GOP caucus, we know that the work to defend progress and to make more must continue. The ACLU of Connecticut is committed to ending police violence and racism in policing, and to building a better future where our communities are able to invest in the things that make them strong and safe instead of over-spending on policing. We will hold agencies and officials accountable in upholding and enforcing the laws, push for additional progress, and dedicate staff to building power in impacted communities.
[This story is part of our 2020 newsletter, in which we look back at the past year and ahead toward the unfinished work that remains for 2021. You can read the full newsletter here.]