On Friday, a group of ACLU Smart Justice Connecticut member leaders, experts who have been directly impacted by Connecticut's justice system, walked into the chief state's attorney's office.
The state Criminal Justice Commission was interviewing five people applying to become the next deputy chief state's attorney for operations, the second most powerful prosecutor in Connecticut. At the end of the day, the commission would choose someone for the job, and we had questions.

"The deputy state's attorney's position is obviously an important position in the state judicial system. This is a public hearing, and people have the right to come out and look at it and listen to the candidates who are up for this job," said Gus Marks-Hamilton, an ACLU Smart Justice Connecticut member leader. "At Smart Justice, we want to have our input, our chance to ask the candidates questions about what they feel about mass incarceration, implicit bias, and hopefully we'll be able to get some answers to some of these questions."
Connecticut's deputy chief state's attorney for operations can set the tone for whether prosecutors in our state embrace efforts to end mass incarceration and prioritize racial justice – efforts that the majority of Americans support – or instead rely on a failed 1980s approach. While the position doesn't have a formal job description, traditionally, the person in this role oversees the chief state's attorney's office's lobbying at the legislature and supervises powerful bureaus, including the one in charge of prosecutors' roles in cases appealing criminal convictions.
Everyday people don't usually get to interview the applicants for this job. In Connecticut, unlike most other states, prosecutors (known as "states attorneys") are chosen by a commission, known as the Criminal Justice Commission. While commission meetings to interview and appoint new prosecutors are open to the public, there typically are not times for public comment or questions.
"I think that the public should be involved in the nomination process, because of the fact that this is affecting the public in general. These are people that are playing games of monopoly with people's lives, deciding whether or not to charge certain individuals, to provide appeals, habeas corpus," said Manny Sandoval, a Smart Justice leader who was at the meeting. 
So, Smart Justice leaders went to ask the job interview questions that every person seeking to become a prosecutor in Connecticut should be asked. We delivered five questions to each member of the Criminal Justice Commission, and we asked them to pose these questions to every person seeking to become the second most powerful prosecutor in the state:
Do you believe that prosecutorial practices and/or discretion have contributed to mass incarceration?
Will you implement a policy requiring the Division of Criminal Justice to collect and make publicly available quarterly statistical information disaggregated by race and gender, on felony and misdemeanor chargers, convictions, declinations, and diversion program placements?
Will you implement a policy requiring the Division of Criminal Justice to track racial disparities caused by its decisions, including disparities in charging, bail requests, diversionary program placements, and plea bargains?
Would you support the creation of a special independent government agency with the power to investigate and prosecute police killings of civilians, use-of-force cases, sexual assault by law enforcement officers, and other cases of police misconduct?
Do you believe that implicit bias exists? If yes, do you believe implicit bias exists in the Division of Criminal Justice?
One by one, the commission asked each candidate question number 5, about their views on implicit bias. Commissioners also asked each candidate about whether they believe the chief state's attorney's office should set a division-wide policy about prosecutors' relationships with ICE (Immigration and Customs Enforcement), a policy that Connecticut does not currently have. And the commission asked about data transparency, in the form of questions about each candidate's proposed approach to the Connecticut prosecutors' upcoming move from a paper to an electronic case management system. This system could make it easier to track patterns in the decisions that prosecutors make about charging, plea deals, and diversion program offers, including any patterns of racial or geographic disparities.
It wasn't all five questions, but it was a start.
"The community needs to be more involved in this, and somehow we maybe need to change this process so that we can have more of a voice. The individuals that were there gave some responses, although I kind of see more political movement going on there," said Manny Sandoval. "All in all, it was a good experience, and I really wish that more people would get involved, because this is something that is affecting a lot of us."
Gus Marks-Hamilton agreed. "I wish more people would be able to show up for this hearing. It's a really fascinating look at one of the most powerful positions in the judicial system in the state of Connecticut, and it's unfortunate that not very many members of the public are here. When we talk about implicit bias, the chair of the commission said that's something that affects everybody, not just police officers, prosecutors, but everybody in the system has implicit bias. This is a unique opportunity for members of the public to show up, and if not ask direct questions unfortunately, be able to hear what some of the candidates for this position feel about implicit bias and about the way the system is run. So I would encourage everybody to come out for hearings like this, because this is a very special opportunity to hear about the people who will be prosecuting and who hold this important position."
Out of the handful of members of the public people who showed up for the meeting, most were Smart Justice leaders whose lives had been directly impacted by prosecutors' decisions, including the decisions made by some current prosecutors who were looking for a promotion to deputy chief state's attorney.
By showing up and asking questions, we were putting the state's prosecutors on notice: formerly incarcerated people are experts, advocates, and leaders. We are not alone, and we won't be ignored.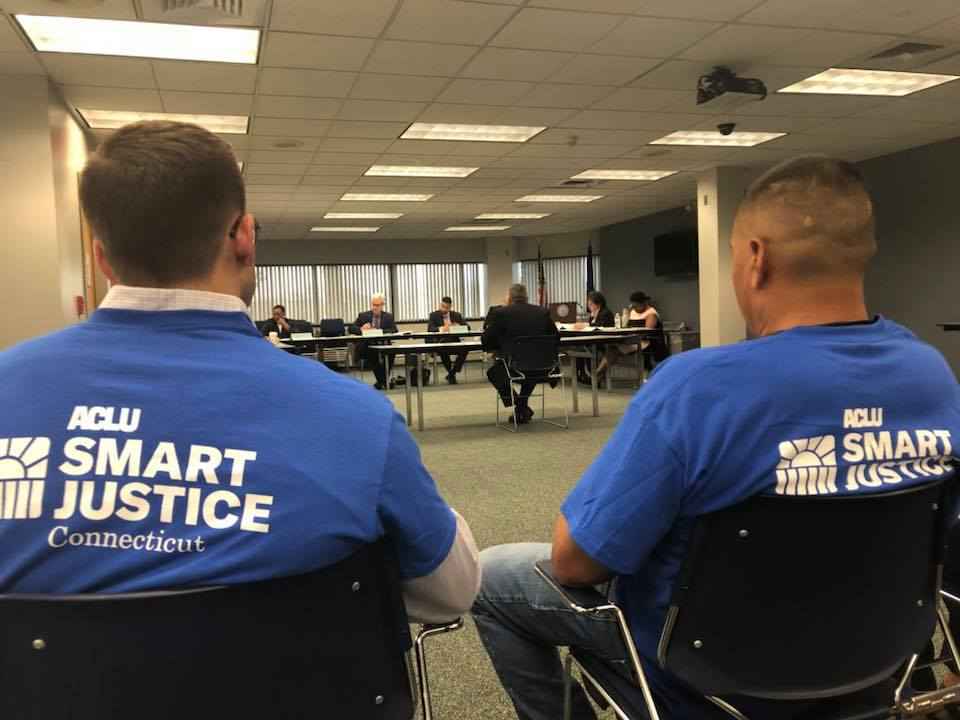 You can stand with Smart Justice in our fight for prosecutorial accountability and transparency. Sign the petition today.