If you haven't heard, the ACLU of Connecticut has recently opened a new workspace in Stamford. This base site in Fairfield County will centralize the work we are already doing and will continue to do in Fairfield County communities.
After a successful open house event in early September, digital content strategist Rachel Moon sat down with David McGuire, our executive director, Erycka Ortiz, our field organizer, and Amber Vlangas, our donor relations officer, to talk about why the ACLU of Connecticut chose to expand with a workspace in Fairfield County, and what the team sees for the future.

RM: Hello! Congratulations on a great open house event! It was so great to see so many familiar and new faces! So, my first question for you all is, why did you choose Fairfield County to hold this new office space?
DM: We've chosen to establish a physical presence in Fairfield County to deepen our roots in this community and further our ongoing commitment to sustained work in the area. Our vision is for Connecticut to be a place where everyone can thrive, where every voice is heard, and where every individual's rights are respected. Fairfield County, with its dynamic and diverse population, offers a remarkable opportunity to really make this vision a reality. It's clear that Fairfield County has a vibrant political landscape that serves as a crucial center of influence in Connecticut so setting up an office with staff dedicated to the area positions ourselves to build on these foundations and continue making meaningful change.
EO: Well, Fairfield County is where I focus a lot of my work. My focus is to support the work happening on the ground here and continue to listen and learn from those who make up the history, the present, and the future of Fairfield County as we explore pathways to change. Having this workspace here signifies a new pathway to building and strengthening relationships, and offering support where it makes sense, which is so important in my work as an organizer.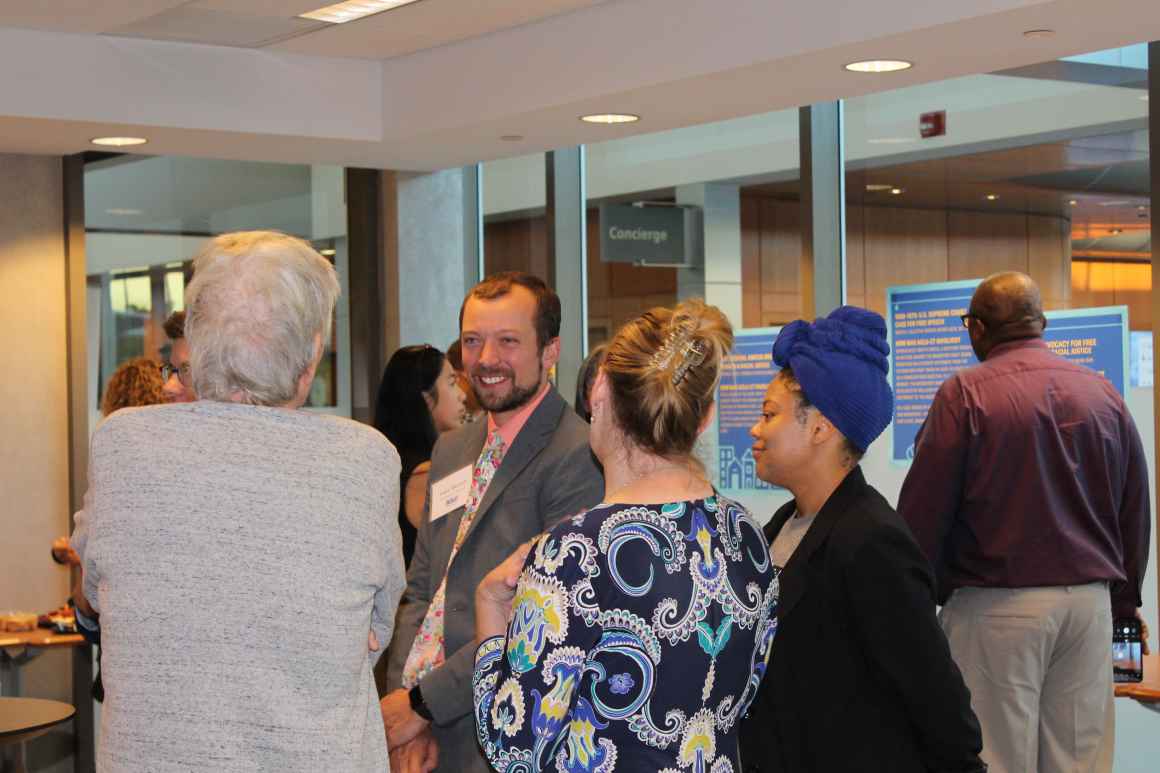 AV:
As the three of us spoke about at the open house event, the ACLU of Connecticut has a growing base of members, supporters, and community partners in Fairfield County. I've been connecting with hundreds of people across the county for the last year and a half and the energy around civil rights and liberties work that I've seen from Fairfield County was incredible. Having this workspace in this county was an intentional strategy we put in place because we knew that it would grow that base for the deepest impact.
RM: What kind of work have you done in Fairfield County and how do you plan to expand on that with this new workspace?
EO: The work I do here is surrounded by building relationships in a holistic way. So, what this means is building relationships by honoring the people first, honoring their stories, meeting folks where they are, and finding the opportunity to engage in this work in a meaningful and honest way that uplifts and amplifies the work already being done on the ground here from organizations like Connecticut Students for a Dream, Triangle Community Center, and so many others. This includes meeting with community partners, exploring what co-working spaces can look like that are congruent with a shared goal, and making more intentional space for us all to humanize our work even further. This is the kind of work that I've done with my team in this county, with Alyssa-Marie Cajigas, Ala Ochumare, Talana'Monique Dickerson, and Tatyana Colón, who are all organizers at other organizations that we've been working with. We've connected with over six hundred people spanning across Bridgeport, Norwalk, and Stamford, meeting them exactly where they are. This is the work that we want to do more of now that we have a space where we can centralize those efforts. Our intention for this space is for it to feel and be utilized as a community resource.
AV: I want to talk about a specific initiative that I'm very excited for. I'll refer to this initiative as the Fairfield County Connectors Cohort, and I told you at the open house that they'll probably come up with a more creative name sometime soon [laughs]. So, cohort members will act as relationship builders and connectors in our communities to raise awareness of the ACLU of Connecticut and partner initiatives, highlight what their community cares about most, and encourage new and old connections to make investments of time, financial resources, or expertise. The group will come together quarterly to share information, plan activities, and be in community with others who share their passion and support for protecting civil rights and liberties. This office in Fairfield County will make that sharing and planning process so much easier and so much more accessible. Plus, it'll provide a physical space for like-minded folks to be in community with one another.
DM: And we recognize that progress is a collaborative effort. We're here to be good partners and complement existing efforts in this county. Like I mentioned at the open house, the ACLU of Connecticut has a long history of litigation and activism in Fairfield County where we've worked with community partners and community members to champion causes such as establishing same-sex marriage, advocating for free speech, and promoting racial justice. With an expanding membership base in this county, this office space allows us to be better equipped to work with the community here to confront the challenges and seize the opportunities that lie ahead.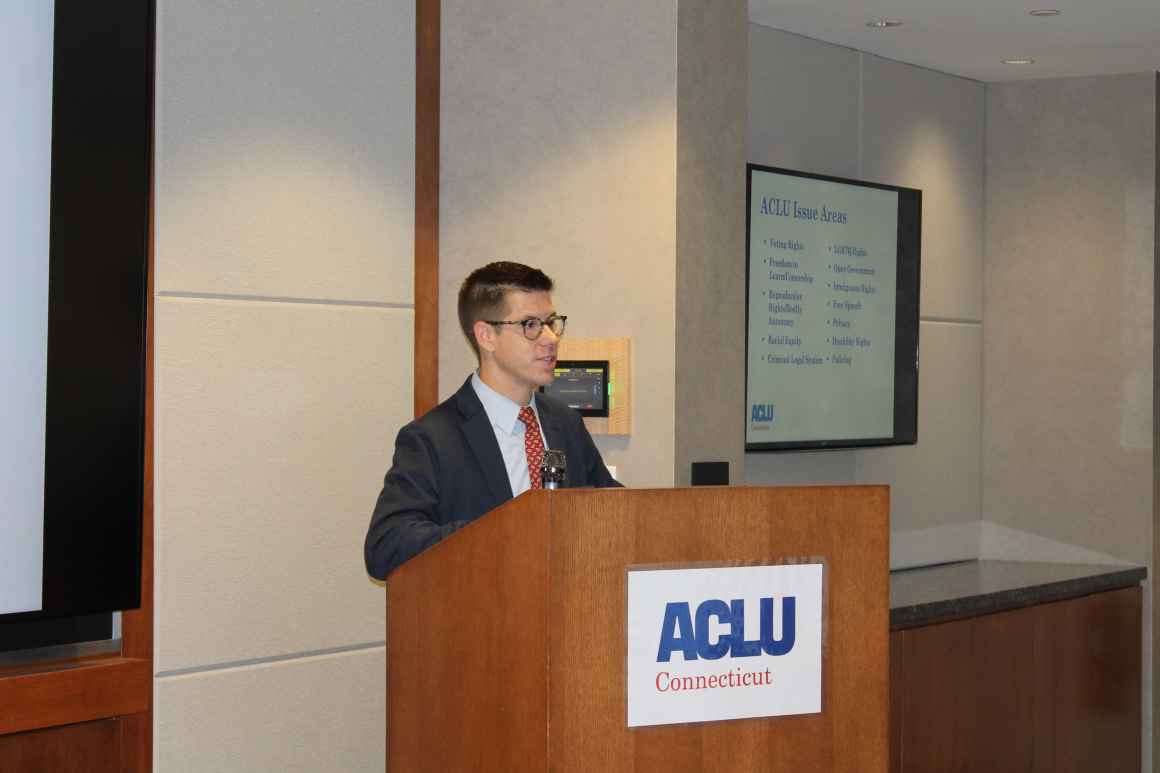 RM: David mentioned being a "good partner" to Fairfield County. What does that look like to you all in terms of the work that the ACLU of Connecticut is doing in this county?
DM: That's an important concept in our work here, especially with our growing membership in Fairfield County. We firmly believe that the strength lies in numbers and those numbers exist here in Fairfield County. Like Amber said, Fairfield County residents have an energy for advancing civil rights and liberties in our state that is palpable. What we want to do is to contribute to this energy, pool our resources, and multiply our impact. By forging and strengthening relationships in this county, we're setting the stage for larger and bolder changes.
AV: I completely agree. My role is all about listening and connecting people to opportunities to invest time, expertise, and resources in ways that are meaningful to them. This is key to being a good partner to the folks that are doing the work on the ground here. We are so much stronger when we collaborate with one another and that's what we want to do: make and strengthen connections as needed. With a growing base in Fairfield County, we want to create space to allow folks who share a passion for civil liberties to come together, share ideas, and turn those ideas into reality. Intention, collaboration, and additional resources are necessary to keep up with the scope and pace of the work during these critical times.
EO: Right, and this is kind of why I prioritize honoring the needs of folks that would encourage them to engage, and feel valued and dignified in the ways they deserve to be. My team and I, the small team I mentioned earlier, spent our time connecting with community members by listening to their stories and holding a container where that passion and concern translated into action. Being a good community partner means a lot of things and, to me as an organizer, it looks like listening to folks, honoring them and their stories, and meeting them where they are.
If you'd like to learn more about the ACLU of Connecticut's work in Fairfield County or get connected, contact Amber Vlangas and Erycka Ortiz.